DVD to MP4
DVD (Digital Video Disc) is an optical data storage device which can hold large capacities of digital data like high quality video and movies. A VOB (DVD Video Object or Versioned Object Base ) file is a container format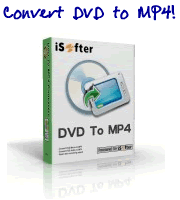 for DVD video files. An explanation of VOB files is beyond the scope of this article, but a study of the software part of the DVD format is essentially a study of the VOB container file format.
MPEG-4, commonly known as MP4 is an acronym for a standard which facilitates compression of audio visual (AV) data. The standard, introduced in 1998 by the Motion Picture Experts Group, is extensively applied in broadcast television, streaming media and by DVD technology developers. MPEG-4 is broken into a number of parts, each relevant to specific categories.
Ever watch or listen to a video you love, and felt like you just need to have the song on your portable video player? Well, there's a fast, fun and easy way to rip DVD's and convert just what you need into MP4 files for playing on your iPod, PSP, Zune, AppleTV or any portable video player. There are DVD to MP4 converter software available on the internet. All you need to do is download the software, a few mouse clicks and you have an MP4 file.
DVD to MP4 converters range from Handbrake, which is free and open-source, to professional DVD to MP4 converters like the ImToo MP4 video converter, which allows for greater flexibility, ease of use, superior quality output and high-speed batch processing. Which one you opt for probably depends on what kind of video player you have and whether you're willing to fork over some twenty odd bucks to buy the software. End of the day, though, it's worth it, since you don't have to pay to download MP4 versions of each video.